Skip to Content
Why It's Important to Service Your HVAC System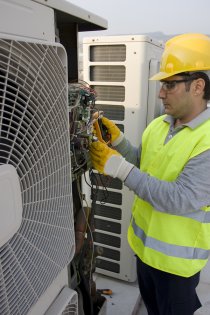 You have the oil in your car changed regularly, right? You should have your HVAC system near Frisco serviced almost as regularly as you would your car for the same reasons. With a professional tune-up and check of your HVAC system, you can go into summer or winter assured that both your cooling and heating units will work with top efficiency.
When your AC unit is serviced, just before summer, you can expect that the compressor, coils, hoses, connections, and everything in between will be checked. A professional HVAC installer and the inspector can notify you of any potential problems you may run into, and he can suggest tips to keep your house cool and your bills low during the summer.
In the winter, when your heating unit is serviced, the HVAC inspector will check for any gas leaks, drafts, and misconnections. He can check your pilot light, condenser coils, and make sure the temperature is in the right range. You may also consider, either in the summer or winter, having your ductwork and insulation examined. This can prevent future leaks and loss of temperature.
Schedule Your Estimate or Service Today