Skip to Content
Maintenance Plans & Tune Up
Keeping DFW Residents Cool With Priority Service Plans
When you need A/C maintenance in Frisco, TX, turn to the experts at Air Masters. We offer A/C tune-up and maintenance plans to help keep your home comfortable and prevent costly repairs or replacements. There's nothing better than relaxing in your air conditioned home with a cool glass of lemonade while the blazing Texas sun is overhead. Don't be one of the DFW residents who finds themselves with an unexpected A/C breakdown. Regular A/C maintenance on your cooling system is a must to prevent these unfortunate circumstances from occurring. Air Masters offers a wide variety of priority maintenance service plans to fit your needs. Our certified technicians have 30 years of experience and work with all makes and models of cooling systems. Regular maintenance will save you money on energy bills and equipment repairs and will help ensure your home remains at a comfortable temperature all summer long.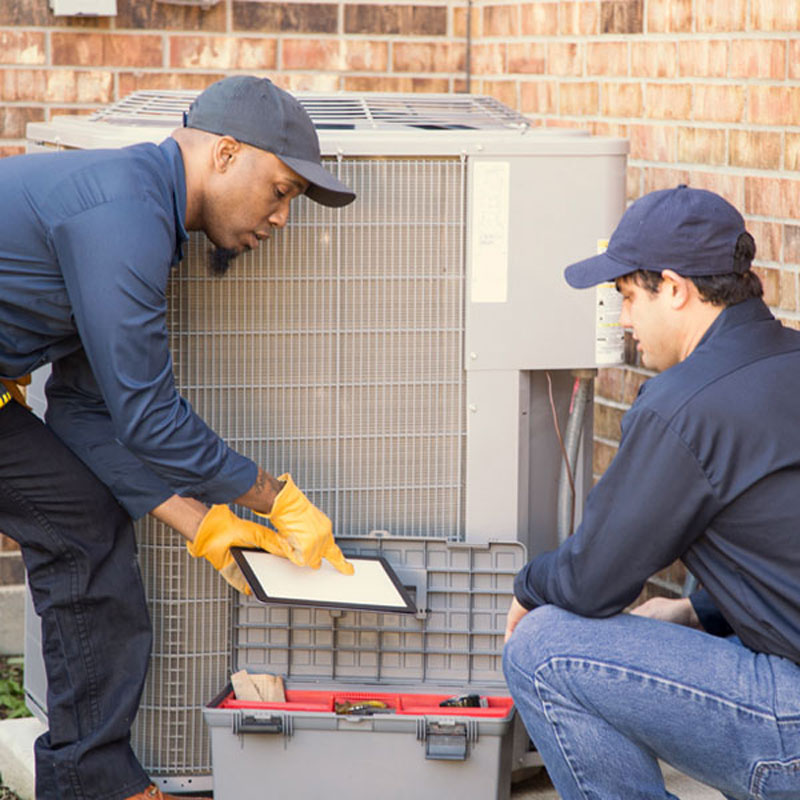 Fast, Reliable, and Trustworthy Maintenance Services
Air Masters is the team to call when you need central A/C maintenance, an A/C tune-up, A/C cleaning, and more. We're a locally owned and operated company that has built up a fantastic reputation for our friendly maintenance services. Your HVAC system is in good hands with our qualified, certified technicians. They possess a keen eye for detail and an extensive knowledge of cooling systems, allowing us to identify any minor issues that could develop into significant problems down the line.
Our maintenance services may include:
Regular and routine cleaning of all HVAC parts
Calibrating and adjusting the thermostat
Lubricating the motor bearings
Checking amps and volts on all motors or capacitors
Testing the starting capabilities and safety controls
Replacing filters or worn components
Inspecting condenser coils, refrigerant piping, and outdoor cabinet conditions
Air Conditioning Maintenance Tips
While the best thing you can do for your home's air conditioning system is to hire our team for regular maintenance and tune-ups, there are also some things Plano homeowners can do. While our A/C maintenance costs are reasonable, you may be able to save money by being proactive. Here are a few things you can do to keep your air conditioning unit working its best:
Removing Debris
If your air conditioner is outside of your home, clearing debris from the unit is helpful. Over time, dirt, leaves, and grass clippings can build up on the outside of your air conditioner. The debris decreases the system's capacity and reduces airflow. Trim back any shrubs or plants around your air conditioner so they can't impede airflow to and from the HVAC unit.
Vacuuming Fins
You can opt to do this yourself or leave it to our professionals. The fins of your A/C unit can be cleaned with a soft-bristle brush. Be careful because the fins can easily be crushed or bent. You may need to unscrew and lift off a metal box to reach them. Check your HVAC owner's manual for directions, and be careful you don't bump the fins when lifting off the box.
Installing a Programmable Thermostat
Using technology to your advantage can make your home cooler and lower your energy costs. A programmable thermostat lets you set different temperatures for various times of the day.
Controlling Heat Through Windows
Your home's windows can work in conjunction with your air conditioner to keep your house cool. Plenty of heat enters through windows, so be sure to keep them covered with blinds or drapes during the hottest part of the day.
Changing Air Filters
It's essential to replace or clean your air filters on a regular basis. One-inch pleated filters should be replaced once a month. If you don't know which type of filter to use, our experts will assist you. We can also clean your filters for you if that's a better option than replacing them.
Energy Bills and Warranties
If your cooling system is not maintained correctly, it must work much harder to achieve your desired temperature. If you have a clogged air filter, the compressor must use more energy to produce the same results. That hard work equals more energy consumption and higher energy bills. Most HVAC manufacturers require proof of maintenance for limited and extended warranties. We strongly recommend regular maintenance by our certified professionals to help your system run smoother, last longer, require fewer repairs, and save you money and hassle.
Schedule A/C Service Today
The outstanding team at Air Masters is dedicated to helping McKinney, TX homeowners beat the heat. We're always happy to answer your questions or address your concerns about A/C tune-up costs and more. We offer same-day HVAC services for fast and reliable results, and emergency air conditioning repair services are also available. Be sure to ask us about our A/C tune-up specials and sign up for a priority service plan so you can rest easy knowing you'll stay cool and save money at your home in North Dallas, TX. Contact our team today to schedule your estimate or request service.
Schedule Your Estimate or Service Today