Skip to Content
Trane Air Handlers – Indoor Air Comfort for Every Season
Ensuring your home's comfort involves more than just heating and cooling. It's about making sure that comfortable air is effectively distributed throughout every nook and cranny of your living space. At Air Masters in Frisco, TX, we offer Trane air handlers that do exactly that – making every corner of your home a comfort zone.
Air handlers help circulate better air throughout your home, and Trane air handlers take this essential function well beyond the conventional. The rugged, double-wall construction and unique cabinet design combined with a corrosion-resistant finish and fully enclosed insulation eliminates unwanted buildups of moisture and condensation, helping to improve air quality while preventing damage to your system. Explore our selection of Trane air handlers and bring home revolutionary HVAC technology today.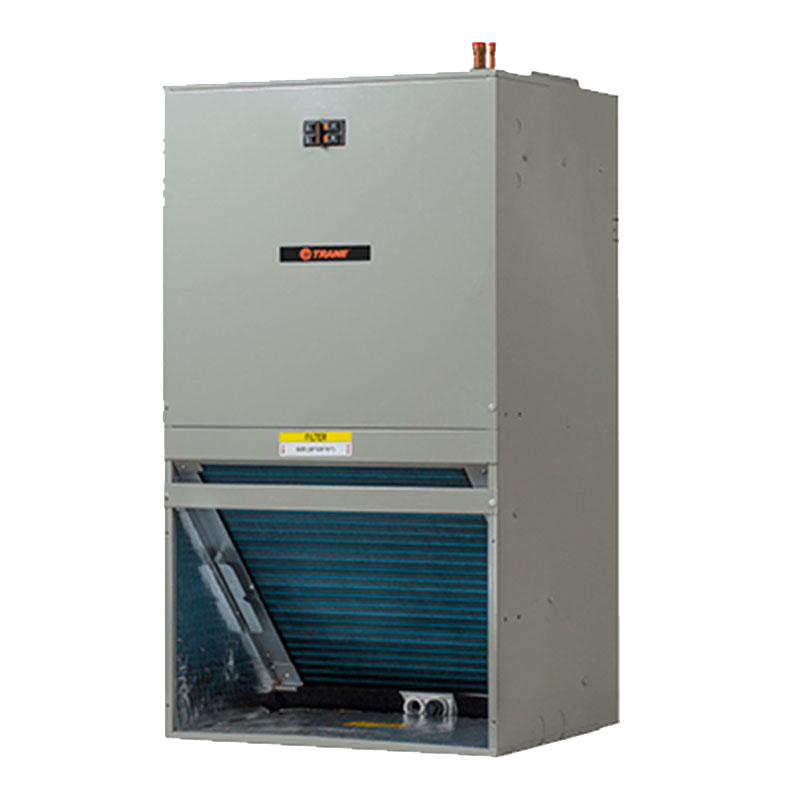 Cozy, Consistent Air Movement for Every Home
Trane air handlers are built unlike anything the market has ever seen. Models like the Trane Hyperion™ are equipped with top-tier features designed to provide your home with consistently cozy temperatures while enhancing the efficiency of your HVAC system. Integrate a Trane air handler into your HVAC system and experience the gold standard in air distribution and indoor comfort. With multiple sizes and configurations available, Trane's line of air handlers offers the perfect model for your home's specific HVAC needs.
Trane air handlers are expertly built with innovative features such as the ultra-efficient, whisper-quiet Vortica™ Blower, one of the quietest and most energy-saving blowers available. The all-aluminum, epoxy-coated coils are more durable and efficient than traditional copper coils found in other air handlers, offering superior heat transfer capabilities while resisting corrosion. And Trane Link communicating technology connects all of your HVAC system components together into one cohesive unit, automatically making calibrating functionality and performance throughout its lifespan.
Pair a Trane Air Handler With Your HVAC System Today
Choosing a Trane air handler from Air Masters means you're investing in a product proven to elevate your HVAC system's performance to an elite level. As the premier HVAC service provider in North Dallas, Denton, and Collin Counties for more than 30 years, we're here to help guide you toward unprecedented home comfort. Every Trane air handler we install with precision means more than just premium air circulation – it's a promise of the ideal home environment, delivered consistently, and tailored to your exact needs. Discover the new standard in home comfort and indoor air quality. Contact us to schedule a service estimate today.
Schedule Your Estimate or Service Today