Skip to Content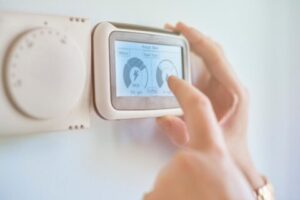 Premier HVAC Installation, Repair, & Maintenance
Air Masters has provided Frisco, TX and the surrounding areas with premier HVAC services for over 30 years. Our technicians are highly-trained specialists who are knowledgeable in all aspects of the HVAC industry. This industry is dedicated to ensuring the safety and comfortability of you and your family during the extreme months. Texas can get cold during the winter months, but it can get especially hot during the summer ones. Because of this, it's imperative you have a working HVAC system. We want you to be able to enjoy your space throughout the year. Reach out to our professionals for HVAC services.
What Is an HVAC System?
A heating, ventilation, and air conditioning (HVAC) system is responsible for heating, ventilating, and cooling residential or commercial properties. The purpose of this system is to provide environmental comfort indoors despite the weather or temperature outdoors. An HVAC system can include furnaces, heat pumps, air conditioners, air handlers, ductwork, ventilation lines, filters, thermostats, and more.
How Does an HVAC System Work?
Your HVAC system is likely one of the most extensive systems in your home or business. Depending on which type of system you have will determine how your system works. Below, we've gone into detail about how each type of HVAC system functions:
Forced Air Systems – This type of HVAC system draws in hot or cold air and moves it through metal ductwork using what is referred to as a blower. Depending on if you're using your air conditioner or your furnace will determine what time of air is drawn in and what time of air is pushed out.
Gravity Systems – This HVAC system is built around the notion that hot air rises while cold air sinks. These systems are positioned in basements and are never used alongside air conditioners. When a gravity system is in use, the warm air rising through your ceiling will heat your home.
Radiant Systems – Like gravity systems, radiant systems are not to be used alongside air conditioners. This type of HVAC system will successfully heat the walls, floors, or ceilings of any room. Pipes are used to transport hot water from one place to another to distribute heat.
How Long Does an HVAC System Last?
An HVAC system is a significant investment. On average, the life expectancy of these extensive systems is anywhere from 15 to 25 years. However, the life expectancy will depend on the type of HVAC system you have and how well you keep up with any needed repairs and maintenance.
Reach Out for the Best HVAC Services
Whether you're in Frisco, Plano, McKinney, or Denton, we can satisfy your HVAC needs – from installations to HVAC repair and HVAC maintenance; we do it all. Air Masters is committed to high-quality HVAC services that will leave your property feeling more comfortable than ever before. To learn more or to schedule an HVAC consultation with our professionals, contact us today.
Schedule Your Estimate or Service Today