Skip to Content
Carrier Thermostats – Harness the Ultimate Comfort Control
Staying cozy amidst the Texas weather requires a home comfort system that seamlessly adapts to changing conditions. Carrier thermostats not only make this possible – their advanced technology makes your indoor comfort effortless. At Air Masters, we are proudly partnered with Carrier to offer their complete range of HVAC products, including state-of-the-art Carrier thermostats, to homeowners in Frisco, TX and the surrounding local communities.
When Texas residents are looking for the ultimate in home comfort control, Carrier's innovative thermostats deliver. Learn more and explore our selection of Carrier thermostats today.
Intuitive Technology, Precision Control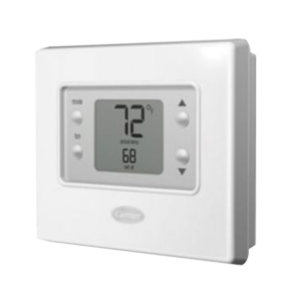 Carrier Infinity® System Control User Interface
Designed to provide precision comfort and unparalleled control, The Carrier Infinity® System Control is more than just an ordinary thermostat. This intuitive user interface is your command center for an entire Infinity® home comfort system. From temperature regulation and airflow to humidity and air quality management, the Infinity® System Control is an intelligent device that makes it easier than ever to achieve total home comfort.
Full-color touch screen with photo upload capability
Intuitive, on-screen prompts
Local weather 5-day forecast
Occupancy sensing to automatically select comfort or energy-saving system settings
Remote access via internet as well as Apple® and Android™ smartphone or tablet devices
Control with Côr™ Home Automation system or Amazon™ Alexa™ Smart Skills
Real-time energy use tracking
Ideal Humidity System® management capable for precise comfort
Hybrid Heat® system management capable
Intelligent, heating- and cooling-comfort staging capable
Auto changeover between heating and cooling
Controls indoor air quality products
ComfortFan™ technology capable with four levels of "constant ON" fan speeds
Ventilation management capable
Measures and manages airflow to each zone and adjusts for quiet comfort
Measures percentage of airflow to each zone for best operation
Day-at-a-glance 7-day (wake, away, home, sleep) programming
Advanced smart setback for best energy savings during "away" and ramp up periods
One-button Touch-N-Go® quick-settings-change feature
Simple vacation programming controls temperature and humidity
Up to 8-zone capability with custom naming feature
Choice of TrueSense™ dirty filter detection or fixed-schedule-based filter replacement reminders
System maintenance reminders
10-year parts limited warranty
TP-PAC01 Performance™ Series Edge Programmable AC-Only Capable Thermostat
A Carrier thermostat is your comfort command center. Carrier offers a three-tiered product strategy to meet all thermostat needs, whether it's a retrofit or a new construction application. Each tier has programmable and non-programmable options for air conditioner, heat pump, or two-speed applications.
These thermostats are non-mercury-based electronic controls with digital displays that do not require batteries to retain programming. They maintain +/-1 degree temperature accuracy and have built-in equipment protection. All programming and configuration settings are permanently stored, even during power outages. These thermostats provide best-in-class comfort. Standard features include:
ExP™ expansion port* for use with future enhancements
Programmable with personal computer*
Stackable and unstackable installation alternatives
Dehumidification† Three airflow levels with Carrier equipment Automatic balance between cooling and dehumidification
Humidifier control with window condensation protection†
Hybrid Heat™ compatible†
OAT sensor option
Seven-day programmable, up to 4 time periods per day, temporary or permanent hold
RC/RH power capable
Keypad lockout
24-hour clock backup
*ExP accessory (expansion port and memory card) sold separately
†TP-PRH only
The ecobee for Carrier Smart Thermostat Premium
The ecobee for Carrier Smart Thermostat Premium takes home automation to the next level. With voice control capabilities and seamless integration with third-party smart home systems, managing your home comfort is as simple as asking. Energy efficiency is only the beginning, as this smart thermostat automatically adjusts to your schedule, personal preferences, and even the changing weather patterns outside.
Built-in air quality monitoring
Built-in voice control capabilities
Touchscreen display
Energy Star® certified
Integration with popular smart home systems
Wi-Fi connectivity for remote access
Monthly energy usage reporting
Maintenance alerts & reminders
Supports zoning control
Smart Recovery – adjusts to your home's heating and cool patterns
Achieve Intelligent Home Comfort Today
Carrier thermostats from Air Masters serve as your portal to personalize home comfort. With Carrier's advanced controls, you'll have the power to adjust your home's climate to suit your specific needs with ease and precision. As Frisco, TX's trusted HVAC service provider, we're here to help guide you to the best HVAC products that fit your lifestyle perfectly. Contact us and discover how a Carrier thermostat can enhance your home's comfort and efficiency today.
Schedule Your Estimate or Service Today