Skip to Content
Carrier Gas Furnaces – Reliable Warmth & Efficiency
The warmth of a reliable heating system is essential amid the chill of winter. Carrier gas furnaces, known for their superior efficiency and consistent performance, are more than ready to bring ample warmth to homes throughout Frisco, TX. As a leading HVAC service provider, Air Masters is proud to partner with Carrier to offer their world-class gas furnaces to residences across North Dallas, Denton, and Collin Counties. With Carrier's dependable heating technology and our installation expertise, you'll enjoy warmth and comfort no matter how cold it gets outside.
Discover Carrier's Line of Gas Furnaces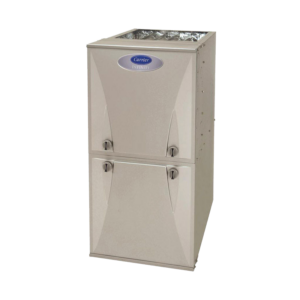 59MN7 Infinity® With Greenspeed™ Intelligence
The 59MN7A Multipoise Variable–Capacity Condensing Gas Furnace features the modulating Infinity® System. The innovative modulating gas valve is at the heart of this furnace's quiet operation, along with the variable-speed Infinity ECM blower motor and variable-speed inducer motor. This furnace also provides 3.5 times tighter temperature control than single-stage furnaces. With an annual fuel utilization efficiency (AFUE) of up to 98.5%, this Infinity® Series gas furnace also provides exceptional savings over standard furnaces. This Infinity® gas furnace also features four-way multipoise installation flexibility.
The 59MN7A can be vented as a direct vent/two-pipe furnace or as an optional ventilated combustion air application. A Carrier Infinity® Control and an Infinity® air conditioner or heat pump can be used to form a complete Infinity® System. All units meet California Air Quality Management District emission requirements. All sizes are design certified in Canada. Standard features include:
Our quietest furnace. Compare for yourself at www.cacfurnaces.com
All sizes meet ENERGY STAR Version 4.0 criteria for gas furnaces: 95+AFUE; AMACF electrical rating; 2% or less cabinet airflow leakage
Supports single- and multiple-zone Infinity systems
Ideal height 35" (889 mm) cabinet: short enough for taller coils, but still allows enough room for service
Infinity Features—match with the Infinity Control for Infinity System benefits
Silicon Nitride Power Heat™ Hot Surface Igniter
SmartEvap™ technology helps control humidity levels in the home when used with a compatible humidity control system
ComfortFan™ technology allows control of continuous fan speed from a compatible thermostat
External Media Filter Cabinet included
Variable-Speed blower and inducer motors, modulating gas valve
4-way multipoise design for upflow, downflow, or horizontal installations, with unique vent elbow and optional through-the-cabinet downflow venting capability
Self-diagnostics and extended diagnostic data through the Advanced Product Monitor (APM) accessory or Infinity User Interface
Adjustable blower speed for cooling, continuous fan, and dehumidification
Aluminized-steel primary heat exchanger
Stainless-steel condensing secondary heat exchanger.
Propane convertible (See Accessory list)
Residential installations may be eligible for consumer financing through Retail Credit Program
Certified to leak 2% or less of nominal air conditioning CFM delivered when pressurized to 1–in. water column with all present air inlets, air outlets, and condensate drain port(s) sealed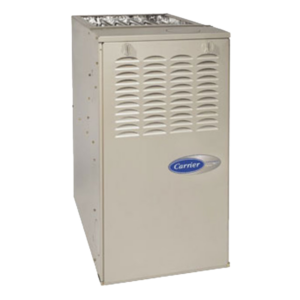 58CVA Infinity™ 80 Gas-Fired Furnaces
The 58CVA/58CVX variable-speed, 4-way multipoise gas furnaces offer unmatched comfort with ComfortHeat™ Technology and IdealHumidity™ in an 80% AFUE gas furnace. You get all the benefits of a ComfortHeat Technology furnace: reduced drafts, reduced sound levels, longer cycles, fewer temperature swings between cycles, and fewer temperature differences between rooms. With the variable-speed blower motor, homeowners can now economically run the fan constantly to help eliminate temperature differences throughout the house and to get better indoor air quality. This Ideal Humidity System™ furnace also increases comfort in the summer by wringing out extra humidity when needed. The CVX furnaces are approved for use with natural or propane gas and for use in Low NOx Air Quality Management districts. The 58CVA/58CVX furnaces feature:
ComfortHeat™ Technology
Intelligent microprocessor control
State-of-the-art diagnostics features with Advanced Product Monitor software. Control connects directly to a laptop computer or Palm Computing™ device to read out over 70 different parameters.
Two-stage heating with single-stage thermostat
Very low operating sound through low-stage operation and QuieTech® noise reduction system
An integral part of the Ideal Humidity System™
Maximum dehumidification selection for summertime cooling
Full Ideal Humidity System™ benefits including "Super Dehumidify" and SmartEvap™
Variable-speed blower motor
Increased SEER ratings for AC and HP systems
Perfectly matches CFM to cooling system at all static points
Microprocessor-based "smart" control center
Automatically adjusts heating stage times to meet demand
Adjustable heating air temperature rise
ComfortFan™ – Constant fan speed selectable from thermostat
LED diagnostics and self-test feature
Stores fault codes during power outages
4-way multipoise furnace, 13 vent applications
Shorter in height – only 33 1/3″ tall
Hot Surface Ignition (HSI)
Draft safeguard switch to ensure proper furnace venting
Insulated blower compartment
Heat pump compatible
All models are chimney-friendly when used with an accessory vent kit
Residential installations eligible for consumer financing through the Retail Credit Program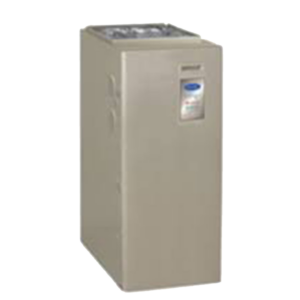 58PHA Performance™ Boost 80 Gas Furnace
The 58PHA/PHX 4-Way Multipoise Gas Furnaces offer deluxe features not found in other single-stage 80% gas furnaces. The ECM motor and Carrier's control logic combine to provide a SEER BOOST to your condensing unit of up to 1.5 points compared to the Air Conditioning and Refrigeration Institute's standard coil-only rating. Carrier's QuieTech™ noise reduction system makes the Performance Boost™ 80 an incredibly quiet induced-draft gas furnace. The optional Carrier Media Cabinet provides an economical way to add high-performance air filtration to homes. The gas furnace control system provides a dehumidification mode, a motor speed selection for continuous fan operation selectable at the thermostat, and fault code storage in the event of power outages. Applications are easy with a 4-way multipoise design, through-the-furnace downflow venting, 13 different venting options, and a door designed for easy service access. An inner blower door is provided for tighter sealing in sensitive applications. The 58PHA/PHX furnaces are approved for use with natural or propane gas, and the 58PHX is approved for use in Low NOx Air Quality Management Districts.
ECM Blower Motor included
QuieTech™ noise reduction system
Microprocessor-based control center
Dehumidification selection for summertime cooling
SmartEvap™ feature–Humidity control when using a Thermidistat™ Control
Adjustable heating air temperature rise
Adjustable cooling airflow
ComfortFan™– Adjustable constant fan speed from the thermostat
LED diagnostics and self-test feature
Stores fault codes during power outages
4-way Multipoise furnace, 13 vent applications
Compact design – only 33-1/3 in. tall
Power Heat SiN™ igniter
Draft safeguard switch to ensure proper furnace venting
Insulated blower compartment
HYBRID HEAT™ Dual Fuel System compatible
All models are chimney friendly when used with an accessory vent kit
Inner door for tighter sealing
Residential installations eligible for consumer financing through the Retail Credit Program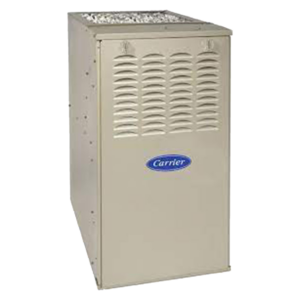 58SC0 Comfort™ 80 Gas Furnace
The Carrier Comfort™ 80 gas furnace is a reliable, highly efficient heating solution that boasts an Annual Fuel Utilization Efficiency (AFUE) rating of 80%, providing effective heat while keeping energy consumption in check. This model features single-stage operation, ensuring constant and consistent heat throughout your home. Its fully insulated, galvanized steel cabinet design promises longevity and resilience against daily wear and tear while minimizing noise and promoting quiet operation. The Comfort™ 80 gas furnace is a cost-effective, straightforward choice with features such as:
80.0% AFUE heating efficiency
Single-stage operation
Fixed-speed blower motor
Aluminized steel clamshell-style primary heat exchanger
Pilot-free, hot surface PowerHeat™ ignition
Fully insulated cabinet and QuieTech™ noise reduction
Allows choices of "constant ON" fan speed operation
Hybrid Heat® compatible
Baked on urethane base coat and polyester top coat paint in taupe metallic
Gain the Carrier Advantage Today
Carrier manufactures an impressive range of gas furnaces to cater to the wide-ranging needs of modern homeowners, ensuring you have options to find the perfect fit for your household. Our team at Air Masters will help you create a warm, cozy indoor environment for your family, regardless of the weather! Contact us to receive personalized recommendations and a service estimate today.
Schedule Your Estimate or Service Today