Skip to Content
Trusting the Pros to Install Your Air Conditioner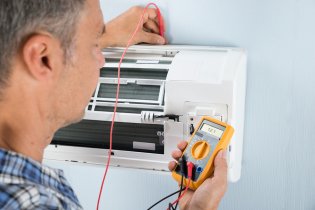 There are many improvement projects around the house and office that you can easily do. However, installing an air conditioner is something you should leave to the professionals. Properly installing a heating or cooling system takes a great deal of skill and experience. You really want to have your AC unit in Frisco installed right. Here are a few good reasons to trust the professionals to install your new air conditioner.
Not All Air Conditioners Are the Same
Since not all air conditioners are the same, you can't assume that their installation requirements, and the tools needed for their install, are the same. A professional HVAC contractor knows that air conditioners come in many shapes, styles, sizes and that each one has its particular installation needs. A qualified technician also knows how to determine what the AC unit works for a specific project. For peace of mind, enlist the help of an HVAC contractor to install your new AC unit.
You Can Create Problems by Installing Your Air Conditioner Yourself
If you decide to install a new air conditioning unit yourself, you run the risk of making a mistake, which can prove to be a huge problem somewhere along the line. Your mistake can potentially be costly if you have to call a professional to repair the damage.
HVAC Contractors Are Certified and Trained
To avoid having to hire someone to fix a problem you created, you should let an experienced contractor do the work for you. As with hiring anyone, you want to choose the right HVAC contractor for your project. By doing some research beforehand, you can save yourself from unnecessary drama later. Professionals worth their salt are certified by the state, and are familiar with current industry standards and safety protocols. They also know municipal laws, codes, and ordinances, as well as how to properly install air conditioning units. Furthermore, all reputable HVAC contractors offer guarantees for their work.
Schedule Your Estimate or Service Today