Skip to Content
Tips for Hiring an HVAC Technician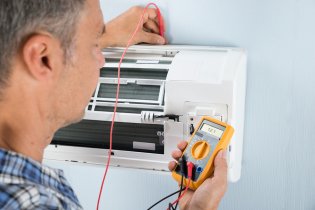 If you have heating and cooling issues, it can be difficult to find someone to perform high-quality HVAC repairs for a good value. Fortunately, you can quality services for your HVAC near Frisco if you know what to look for in a furnace and air conditioning repair specialist. Continue reading for tips on hiring the right HVAC technician for your needs.
Licensing
It is a grave mistake to hire any HVAC technician who doesn't have a license. In many places, it is illegal to offer HVAC services for a fee without having appropriate licensure, but that doesn't prevent people from doing it. You can ask the technician for the HVAC license number. You can look up this number online to check the status of their license. Because some HVAC services require knowledge of plumbing, the HVAC technician may also be required to have a plumbing license. So when asking for licensure, find out which licenses the technician holds.
Insurance
In order to qualify for licensure in many states, HVAC technicians must have a minimum level of insurance and bonding. Any HVAC technician working in your home should have liability insurance, which protects you in the event of accidental damage or injury. Bonding is also important to check for, as this ensures the job will be finished even in the event that the HVAC company goes out of business.
References
Ask the HVAC technician to provide references who can vouch for the quality of their HVAC services. Any technician who hesitates to provide references or cannot come up with any is not worth your business.
Estimates
HVAC repair, replacement, and installation can be expensive. This is why it is recommended to get an estimate from each HVAC technician you speak with. Although the total cost of the project is the most important component of the estimate, it's also best to ask for a thorough documentation of the overall project, details, and completion dates.
Schedule Your Estimate or Service Today